Guidelines for Creating Your Wedding Budget
Creating a wedding budget is an essential step in planning your special day. Here are some guidelines to help you navigate this process effectively. First, determine your overall budget by considering your financial situation and any contributions from family members. Next, prioritize your spending categories such as venue, catering, attire, photography, and decorations. Allocate a reasonable amount to each category based on your preferences and research on average costs. Consider cost-saving measures like DIY projects or opting for off-peak wedding dates. Keep track of your expenses using spreadsheets or budgeting apps, ensuring you stay within your allocated amounts. Regularly review and adjust your budget as necessary. Lastly, remember that your wedding is about creating beautiful memories with your loved ones, so focus on what truly matters to you both.
Breakdown of Wedding Budget Allocation
When it comes to budgeting for your wedding, it's essential to break down your expenses thoughtfully. Start by allocating the largest portion of your budget, approximately 40%, to the venue and catering. Allocate around 15% for photography and videography to capture precious memories. Set aside 10-15% for attire, including the wedding dress and accessories. Allocate 10% for flowers, decorations, and event styling. Dedicate 5-10% for entertainment, such as music or a DJ. Allocate around 5% for invitations, stationery, and postage. Set aside a similar percentage for transportation. Allocate 3-5% for wedding favors and gifts. Lastly, keep a small percentage for unforeseen costs. Adjust these allocations based on your priorities and preferences to create a budget that works best for you.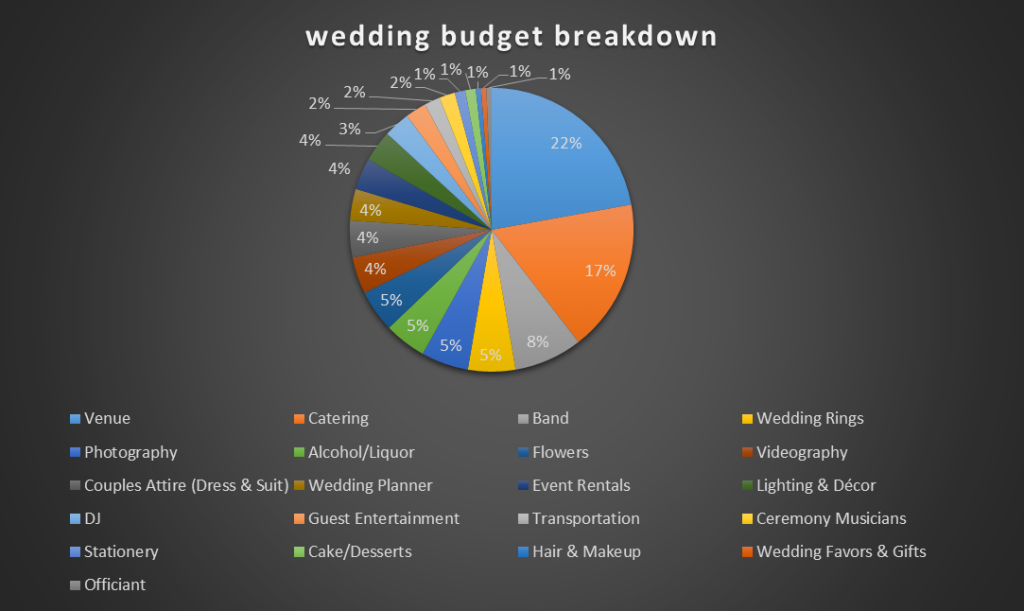 Rasta Rita Venue & Catering is the go-to choice for anyone hosting an event that needs catering and venue services. With 40% of your total event budget dedicated to their services, you can be sure that your event will be taken care of with utmost professionalism and efficiency. From delicious food to stylish decor, Rasta Rita Venue & Catering will make sure that every aspect of your event is perfect and memorable.
Allocating Your Wedding Budget
Considerations for allocating your wedding budget include determining your overall budget, prioritizing spending categories, researching average costs, accounting for unexpected expenses, tracking expenses, and regularly reviewing and adjusting your budget. Communication with your partner and focusing on shared priorities will help create a budget that aligns with your vision for the special day.