We're famous for our margarita trucks but did you know the real story behind Rita and sister trucks?
It all started when Mario Melendez discovered a rusty old bakery truck for sale on eBay in 2012. He paid $1000.00 for her on the spot and they fell into a very expensive love affair. Five years and 120 thousand dollars worth of repairs later, she ran for the first time but she was far from her glory days of starring in movies and showing up at the glammest of parties. She needed a complete restoration from top to bottom. You could say "She's had some work done."
Like many starlets, the work done on Rita has paid off! She's catered thousands of events from Orange County, Santa Ynez, San Jose, Las Vegas, San Diego, Los Angeles, Joshua Tree, and High Desert areas. She truly is one-of-a-kind and steals the show wherever she goes. She's popular at weddings, corporate events, private events, and movie sets. She has been used as a model for TV commercials such as Southwest Airlines, Humira, Facebook, HBO, and NBC. What else can we say, she's got the looks that kill!
We have to thank Christopher Lord Designs who created her paint job and of course Orange County Hot Rods' Aaron Hamusek who keeps Rita maintained beautifully. Only the best for our Rita baby!

Like her sister Rita, Lady, a 73 Check Balboa Vintage RV, was rescued from the chopping block at a junkyard. She was given to Melendez for free to get her off the lot, poor thing. With the help of the gang at Christopher Lord Designs and Orange County Hot Rods' Aaron Hamusek, the restoration process took about 12 months.
Melendez decided to take a different direction with Lady and enhanced her natural 70's lines with groovy pin-striping and some funkified fonts. Lady is an event favorite with a different vibe. If you are looking for some laid-back Rastafarian groves, turn up the tunes and let those margaritas flow!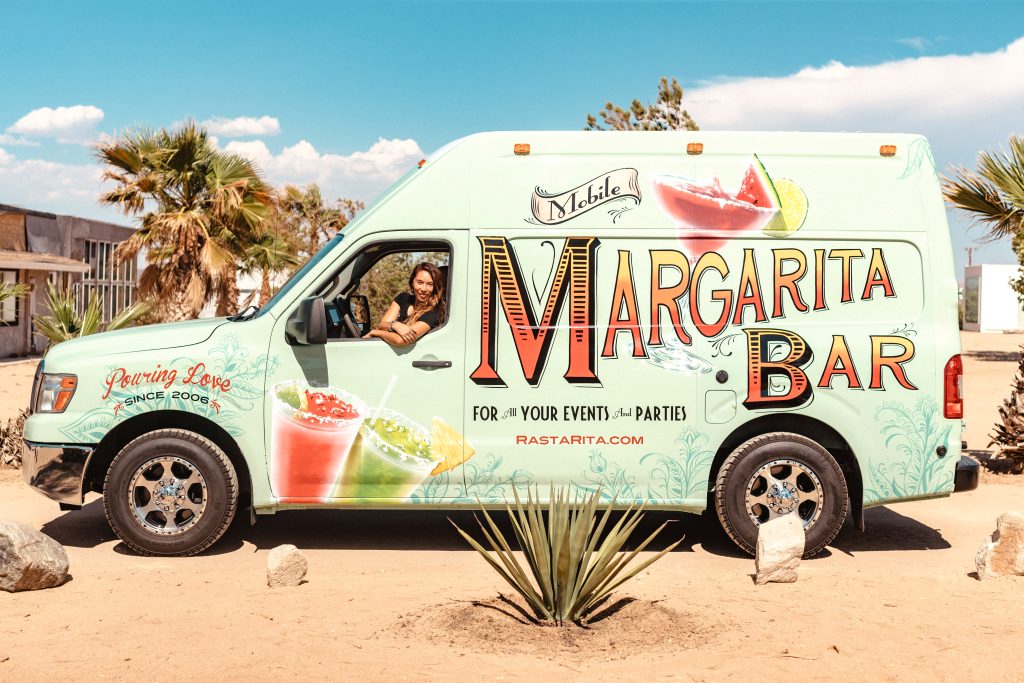 Queue 2022 and now we have two new trucks: Maggie and Rock-sy! Maggie and Rock-sy are the babies in the family but they are young, hip, and a little more mileage-friendly, if you know what I mean. Rita and Lady have their looks but they don't like to get out of bed for less than a grand. Meanwhile, Maggie and Rock-sy can travel with ease. They've got air-conditioning (for those desert raves and festivals), high-mileage tires, and a little sleeker design and of course, they've still got the charm of a fantastic paint job.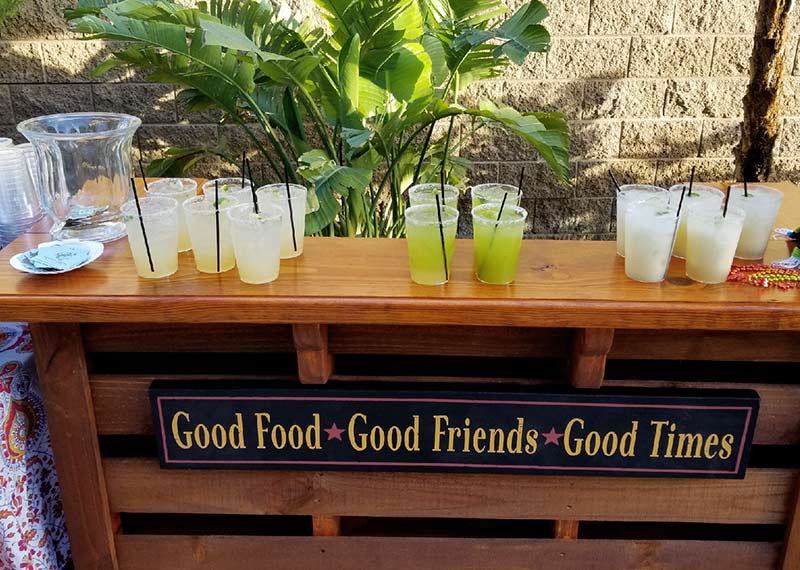 Sometimes our truck service may not be the best fit for you. When that's the case we offer a Portable Bar Service that fits into any backyard, office, or inside your home. Our team arrives approximately one hour before serve time for set up. We serve for four hours and then spend one hour for breakdown. We recommend one bartender per 50 guests,
depending on the final menu selection.